Located between Marble Falls and Spicewood on a working ranch. Approximately 10 miles from Marble Falls.
Private, secluded and very rustic, you will feel like you are a hundred miles from the hustle and bustle of the city. Watch for birds, deer and other wildlife or just do nothing. The cabin is 22 by 30 so you won't feel cramped in a small space. Walk just a few yards and you are rewarded with a hilltop view of the hill country that goes for miles and miles. Outside there is a fire pit. Inside there is a complete kitchen with stove, microwave and full size refrigerator.

In the bedroom there is a custom made queen size bed made of wrought iron and cedar.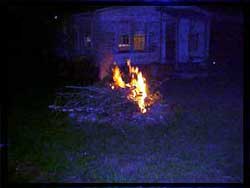 Continental breakfast
Check in is at 3 pm, checkout is at 11 am
No smoking
$75.00 per night, 2 night minimum on weekends please.
Directions : from the bridge in Marble Falls go 2 miles south on Highway 281, turn left on FM 2147 east, go 4 miles, turn right on County road 404, go 2.5 miles and take a right on county road 405 county road 405 is gravel,
go 1 tenth of a mile and go left to the cabin.
For reservations email or call 830-693-3112 or 830-693-4767